intellectual condescension
so i posted mr. ed's
response to a response
of mine. the post is long, and if you pay attention, you will see why there is such dismay in the ranks of the dem party. pay attention to the comments, and the tone. the condescension is almost palpable.
please let me relate a story from the pumpkin patch. no, i'm not veering of on some disjointed tangent. please bare with me.
it was early evening. a young gent came up to the counter, and remarked that the romanesque cauliflower we had picked and brought in looked pretty funky.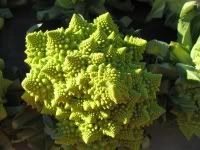 .
i agreed, and said it looked like a vegetable
fractal
. his next remark showed his inexperience. "wow, i wouldn't think that you would even know what a fractal is".
i let that sit for a minute, trying to figure out exactly how to respond, or even if i wanted to respond. my response: "fractal? well, let's see. i'm a senior nuclear reactor operator, working at a major research facility. i also carry a level II neutron radiographer qualification. i've written programs that require a solid knowledge of fuzzy logic, chaos theory, and mandelbrott recursions which are necessary to formulate fractals, in determining minimim and maximum defect locations. perhaps you might like to reconsider your comment. you CANNOT judge by outward appearances." to which he apologized for jumping to conclusions, and left in a highly embarrassed state.
so don't think that because i do not subscribe to YOUR belief system that MINE has not been thought out and analyzed to death by ME. i'm comfortable in my beliefs, and i would like to stack my education (I maintained a 3.98 gpa through 160 semester hours of engineering, science, computer science, and liberal arts classes, while working full time, with a family, and didn't start getting B's until i took my masters classes in environmental engineering at UC Davis), travels (i was a military brat, and a sailor myself for 8 1/2 years), life experiences ( i lived in france for 4 1/2 years during the algerian uprising, where neighbors of mine were killed every week in orleans just so the algerians could make the newspapers, and my school bus was armored against grenade attacks, and we were guarded by two heavily armed soldiers), i've been a nuclear submariner, a nuclear test engineer, chief test engineer, a manufacturing company production manager, an environmental remediation supervisor, and now i'm comfortably ensconced in a research facility that is working on cutting edge nuclear medicine, geological classifications, radiography, and a whole host of other stuff that probably wouldn't mean anything to you unless you read the most current and up to date scientific journals (how's THAT for condescension?), spawned two kids, one a special education teacher, and the other studying to be a biology teacher. care for me to continue? i've been certified as an international open water scuba diver for 30 years, i've piloted an ultralite airplane, and if i'd had an extra 2 grand, it would have been mine, i've gone sky diving, with enough time in freefall to warrant sprouting wings, i've raced motorcycles at laguna seca and sears point raceway, and i have climbed mt. shasta with a crew of drunken sailors, and we all made it back. i've dived thru the remains of the japanese fleet on a decompression dive in truk lagoon, and i've seen the midnight sun from the north pole. i've been chased halfway across the ocean by russian submarines, and i died, and was brought back using the 110 volt cord from a halogen lamp, while underway by a submarine corpsman (thanks again, doc). my grandfather ran for chairman of the democratic party in the state of washington, and had a cross burned on his lawn by the KKK when he worked in the sugar beet fields during the depression.
but i digress.
just let me finish by stating that because my value system isn't yours, it does not follow that it is not as valid (or in my case, more valid), or as well thought out.