gun-porn, nook style
that phrase cracks me up. of course it comes from john over at
Argghh!
, some flavor of crazy army dude with really really big guns to play with.
so here's my gun porn for the day. 25 yards, off-hand, rapid fire (less than 10 seconds for 6 shots) double action from my smith and wesson 686 6" .357. one hole, 1.310 inch group center to center. shooting
this ammo.
not bad for 50 year old eyes, after a pot of coffee and a cigar before heading to the range. of course, without that, i probably wouldn't even be able to hit the target. you just learn to shoot between the shakes!
like i said, i load target quality ammo. i probably would have brought that group down to under an inch in single action. the poor target i shot with the pistols in single action was too shredded to take any meaningful measurements off of.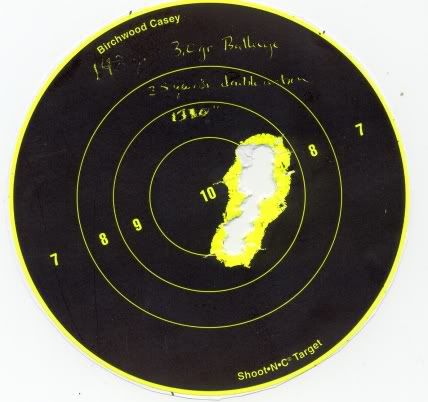 click on image for a real size image
life is good.
now i have to go clean the damned guns. bullseye powder may be the workhorse in pisol reloading, but it is dirty as hell. not really a problem though, because i clean my guns after shooting anyway.
Labels: 38 special, ammo, range, reloading, target