food blog: dried apricot pie
eeeew. dried what?
let's examine a truth. in chinese cuisine, there are many recipes that rely on dried ingredients. as a matter of fact, if you use the fresh versions, the dish won't taste the same. drying the ingredient, whatever it is, intensifies the flavor, and adds a whole different texture. dried cuttlefish, and many varieties of mushrooms and sausages come to mind, all ingredients in killer chinese dishes.
so dried apricots aren't that bad of an idea when you get down to it. remember how for centuries the only foods you had throughout most of the year were preserved harvests. this recipe relies on the fact that dried apricots yield a much more intense and interesting flavor than fresh. no joke
ingredients:
2 packed cups of dried apricots. we like the dried mediterranian apricots better than plain old dried apricots for this recipe. they give a deeper, sweeter flavor when used in this pie.
2 1/4 cups water
1/2 cup sugar
1 1/2 tsp corn starch
1/4 tsp salt (or 1/2 tsp kosher salt...which i like better)
3 tbs butter
2 pieces of pie pastry for a 9 inch pie. di usually makes her own, but used a "cheater crust" ready made and purchased from the store. i thought it was ok, she was disappointed. cooks, who can tell them it's ok when they think it's not?? believe me, it was good. the only thing i'd suggest is make sure the pastry is kept cold until used
1/4 tsp nutmeg
1/2 tsp cinnamon
How:
bring the apricots and water to a boil. reduce the heat, and let the apricots simmer for about 10 minutes. Add the sugar, and let cook for 5 more minutes.
drain the apricots, saving a cup of liquid.
put the liquid back into the pan, and add the salt, cornstarch, nutmeg, and cinnamon. heat the mixture, stirring often enough to prevent scorching. cook until the mixture tightens up and thickens. don't cook too long though, because as the water evaporates, you will end up with cornstarch glue rather than a glaze.
put the bottom crust (unbaked) in a 9 inch pie pan, and arrange the apricots into an even layer. pour the glaze over the apricots, and then dot the top of the fruit with butter
put the top crust on, crimp the edges, and poke a couple of vent holes in the center of the crust to let the steam out.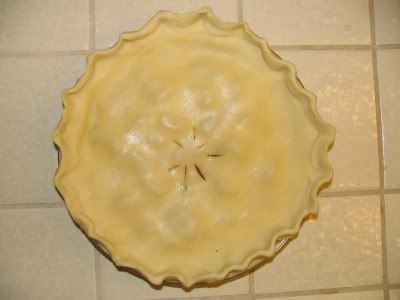 bake in a 425 degree oven until the crust is "nicely browned", about 25 to 30 minutes
do not let your spouse (that would be me in this case) turn and shuffle the pie during the baking process. do it yourself to insure it gets done properly. di made two, and i did the whole front to back, turn 180 degrees thing to even out the heat exposure. our oven has a hot spot that will burn foods if you don't "share the wealth" by rotating and shuffling whatever you are cooking. while shuffling, i almost lost one of the pies, and kind of scrunched the edges in a successful attempt to save the pie from hitting the floor.
that's ok
it still tasted great.
as always, if you try this recipe, or it inspires you to try something different, please let me know how it turned out. i'm always looking for fresh and clever ideas to improve my own cooking skills and recipes.
for a complete list of my online recipes, follow the
link here