three years of corn mazes
i've talked about the pumpkin patch, and the maze pop's grows for the maze company. well, here are three years of mazes. these pictures were taken by a news helicopter pilot.
now i'd like to point out something that i found very interesting. look at how close the urban/suburban border is with the farm. 30 years ago, alameda county had 25000 acres of farmed land. today, there are less than 120, with half of them being pop's. these pictures only show the front half of the farm. there's more out back.
click image for larger version
this is the maze put in for the 2002 season, probably taken sometime in late august, early september.
here's 2003, and this picture was probably taken closer to the beginning of october. look at how full the field was. the varicolor crop bordering the maze is 7 varieties of organic leaf lettuces.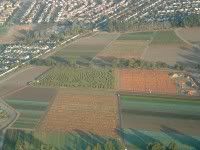 and here is 2004. this picture was taken right at the beginning of october. just to give a little perspective on how many pumpkins pops grows and puts out, the maze is 5 acres. the patch is probably close to 4, and in the foreground you can see where some of the pumpkins were grown. he left them in the field until needed in the patch. i can't tell everything that was growing at the time, but a quick scan of the picture shows some of the following: corn, brocolli, cauliflower (3 varieties), red and green cabbage, 15 kinds of tomatoes, a dozen types of mellons, 4 varieties of summer squash, at least 10 types of winter squash, strawberrys, onions, radish, garlic, yellow and green beans, 9 types of peppers, cucumbers, peas (2 types), carrots (3 types), and 15 varieties of pumpkins. i probably left something out, but that's close. the fruit stand is to the left at the bend of the road coming into the park, lower left hand side of the picture, just out of view.