reloading the 45 acp
i've been tinkering with 200 grain lead semi-wadcutters made by Western Nevada bullet company i've had laying around the shop for a while. well, i've got about 1000 of these critters, so i figured that i probably should get off my duff and work up some decent loads using them. i've loaded 230 grain ball for the most part. rainier, winchester, remington were the last 3 i tried. i hadn't had much luck with the 200 grain bullets when loading for the 745 LDA para-ordinance, so i kind of gave up on them and tinkered with 45 colt loads using them. not much luck there either.
then i picked up the springfield TRP, so i tried again.
i did some loads using bullseye powder, and figured around 3.8 to 4.2 grains would be good, and i should revisit those loads.
i did, and i was not impressed with the results out of the para. the springfield liked that load ok, but i'm determined to find one that both 1911's will shoot. kind of simplifies life at the range if i only have one load to worry about.
i loaded 28 rounds of each load, enough for 2 magazines in each pistol. i loaded several sets of bullseye, in 0.2 grain increments, and seven loads of unique, in 0.2 grain increments from the bottom of the load chart to nearly the top.
next, i took the pistols and all that newly minted ammo, and went to the local 25 yard indoor range, where i shot 14 rounds per pistol, per load. all targets were shot standing, shooting offhand. i know that's not the "real way" to work up loads, but i've found there isn't much chance that if i need to use these pistols for anything other than punching holes in paper targets, that there will be a bench and a pile of sandbags around to shoot off of. i work the loads the way i shoot them. that's how i can get great groupings once i figure out what the gun likes.
so here's the results of some of the loads. i've included some but not all of the targets. these are simply representative of the process. you will see the way the groups develop. you'll also see why i'm not a competitive target shooter. that evidence is starkly apparent when you look at the number of "fliers" i have!
click on picture for larger image.
for reference, these are 50 yard rifle targets. the black area is 3 7/8 inches across.
so here's the first target, 3.8 grains of bullseye.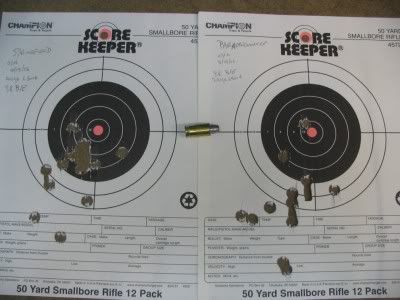 the springfield is ok with this load, but the para sucks wind. all of the bullseye loads were like this, so i'll probably abandon bullseye as a powder choice for these bullets.
on the next picture, you can see that the 5.4 grain load of unique has possibilities. the para is happy, and the springfield looks like it's actually my problem aiming, and not the load's problem.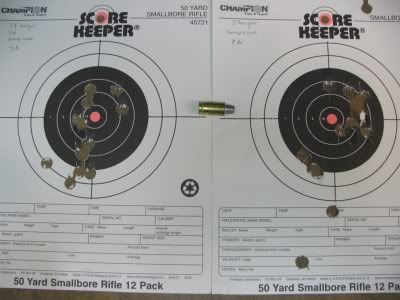 then i fired the 5.6 grains of unique loads. these rounds have a better grouping for both pistols than the previous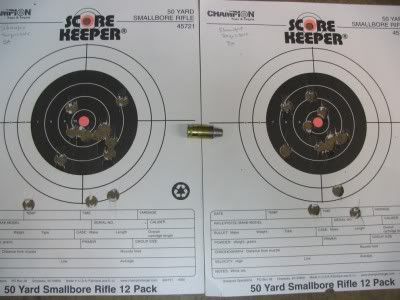 at 5.8 grains of unique, it actually looks like i might know what it is i'm doing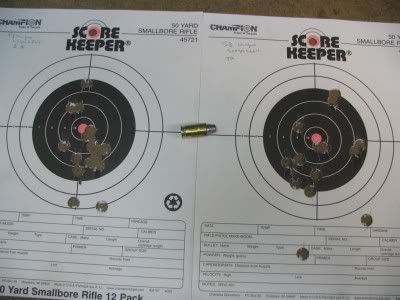 and at 6.0, it was obvious that the groups were opening up again.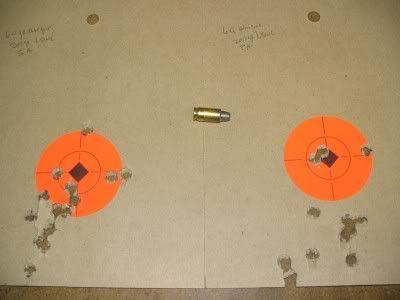 so, examining the targets tells me that i CAN reload one charge for both guns. can you guess which load?
actually, i'll probably load up another 56 rounds each of 5.6 and 5.8 grains of unique. that way i can shoot fresh, without having to deal with the "range fatigue" factor. then i'll know which load to pick.
isn't reloading fun? i have a couple other powders i can try, but if the results are consistent, why mess with success?
technical info for the 45 acp loads developed:
overall length: 1.258 inches
crimp: 0.47 inches
bullet: 200 grain lead semi wadcutter, Western Nevada Bullet Company
powders: bullseye; 3.5 to 4.2 grains. unique; 4.6 to 6.0 grains
oh, and i received a box of jewels from my favorite online reloading supplier
MidwayUSA
. they had a promo, that if you bought off of their "special list", they'd pay shipping. so, i bought 65 pounds of lead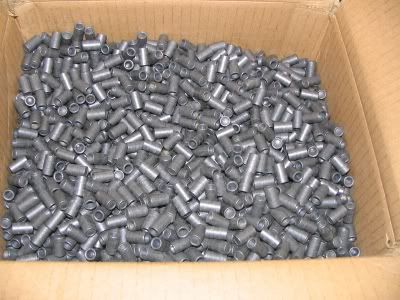 in the form of 3000 Speer 148 grain 38 special hollowback wadcutters.
.
i've loaded the
bevel back wadcutters
from Oregon Trails and from Western Nevada Bullet, but i've never messed with the hollowback rounds. it looks like they should be a hell of a lot more accurate, since the hollowback will obdurate like crazy. anyone have a pet load for these critters? since i've only loaded hard cast lead, and not swadged lead, i'm not sure what kind of leading to expect. the speer bullets are supposedly lubed with a hard lube. is it going to be enough, or do i need to get cracking with something like Alox when prepping for loading?