howdy howdy howdy
well, we made it back in one piece. a week long cruise is not enough when visiting alaska and british columbia. here are a few samples of our trip. i'm working on gettig the images formatted and labeled, and when done, they will be placed in a photo album for all. oh, and the camera worked like a champ. wish i was a better photographer (i.e. trained on all the tricks of the trade), but i think i did ok.
click on images to see a larger version. none are bigger than about 250k, but before manipulation most are in the meg or better size. you should see the resolution. unbelievable.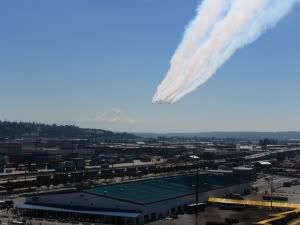 The
Blue Angels
were were performing at seattle's
SeaFair
while we were loading up on the cruise liner to head out. we didn't get to see very much of the air show, since we were on the waterfront, and they were performing over lake washington. but they did buzz us a couple of times, and this image was shot as they were flying towards Mt. Ranier. fun to watch.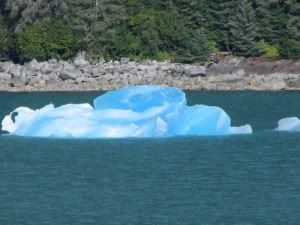 this is a small iceberg, probably about 35 or 40 feet long, by about 15 feet across. look at the blue. i was just blown away by the colors we saw in alaska. we were told that the blue ice is from the bottom of the glacier, where it had been compressed. this is in the Tracy Arm, on our way back out from getting up close and personal to a "floating" glacier, one that rides on the water at it's terminus. spectacular.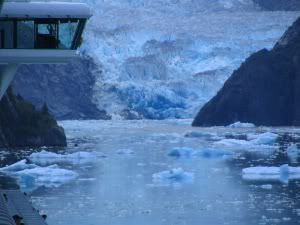 this is where the ice came from, a glacier at the head of Tracy Arm. the weird looking structure you see in the upper left corner is the bridge of the ship. and it's not a photographic trick. we were that close. this transit from the ocean, up the tracy arm, and back to sea was my favorite part of the whole cruise. i say again, spectacular.