had a great time, wish you had been there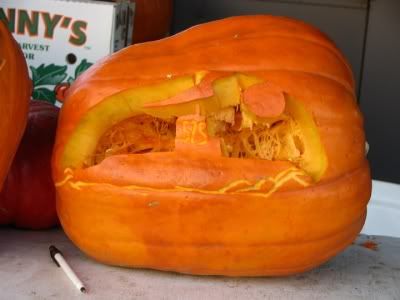 well, i'm back from a couple of weeks at the old pumpkin patch. damn, but i had a great time. good people, fun kids, incredible weather. it all worked this year. hardly a hitch, and none big enough to even mention. even the gang bangers kept it under control at the
corn maze
.
as usual, most of the pictures are linked to larger images. click for a bigger view
here's what the corn maze looked like this year:
just a tad under 5 acres. the kids sure like running through the maze, and i'm always impressed with how many folks come out, pay money to wander through a bunch of corn, and have fun doing it. i'm glad casey (the guy pops grows the corn for) is a good guy. he works his kiester off for a couple of months setting this up and operating it.
our first day was 1 OCT, which was a saturday. we didn't have everything set up yet, and were scrambling to put the finishing touches up even as our first customers showed up. here's Trent repainting one of the displays. my nephew Anthony is helping out. it may look like he's supervising, but in reality we had him painting like a madman.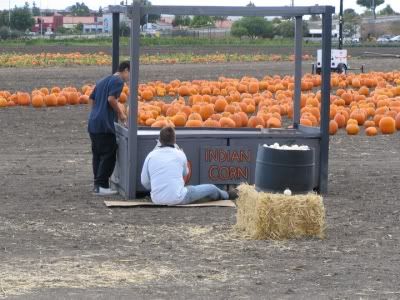 i've got to say that pop had a great crop this year, with a huge variety of sizes from the itty bitty "wee-bee littles" up to the "atlantic giants". i love the view from the bridge at the far end of the farm. the whole area is laid out in front of you, with the pumpkins set out in orderly sections. of course, the order lasts only until the first customer comes in with an energetic 7 year old. here's just a section of the field we had pumpkins set up on.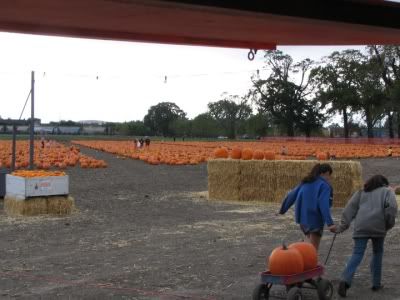 folks always ask me why i take a couple of weeks of hard earned vacation time to spend 12+ hours a day working at the patch. i can't really answer that with words, because it's hard to pin down. the sense of family, of working together for a common goal, thousands of kids, tractor rides. here are a couple of other reasons:
late afternoon, with the sun bathing the entire field in a warm golden glow: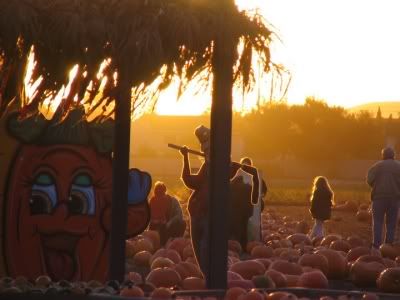 .
early evening, and the clouds scattered the sunlight in thousands of rays.
as the sun sets, the sky turns an incredible range of oranges and reds.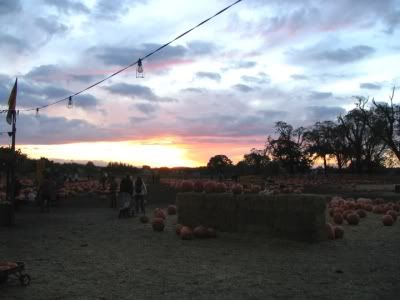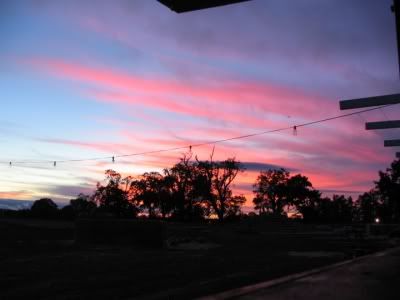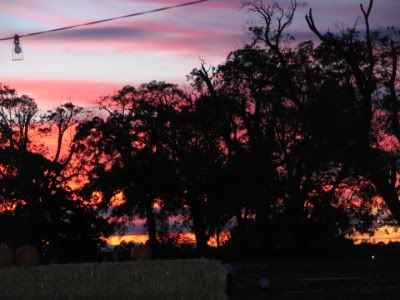 it's easy to say that i have learned to appreciate working outdoors, especially when the weather is good. this year, the weather was simply spectacular. the sunsets were always energizing, and the evening fog rolling over the hills separating fremont from the Pacific provided an awe inspiring tableau.
i also got to carve pumpkins. actually, i could have carved as many pumpkins as i liked. what am i saying! i did carve as many as i liked to. not all were captured by my camera, but here are a few. note that a couple of them were nearing the end of their existence when i remembered i had the camera with me!
ever carve a butternut squash? they are harder than hell, and you have to bore them out to allow the candle to breath, as well as light the eyes: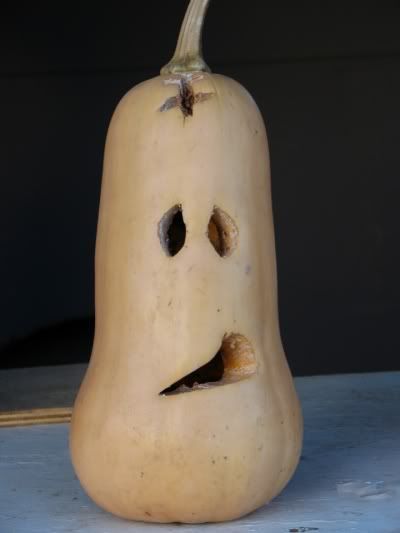 here are a couple. the little one in front was my attempt to carve a "coconut monkey". if you have ever been to Hawaii, you'd understand. it's one of the big sellers for the touristas: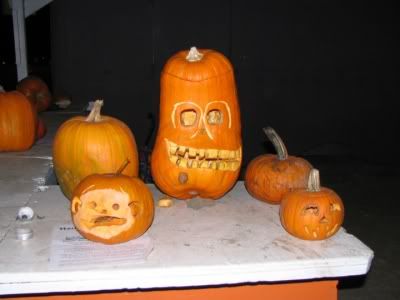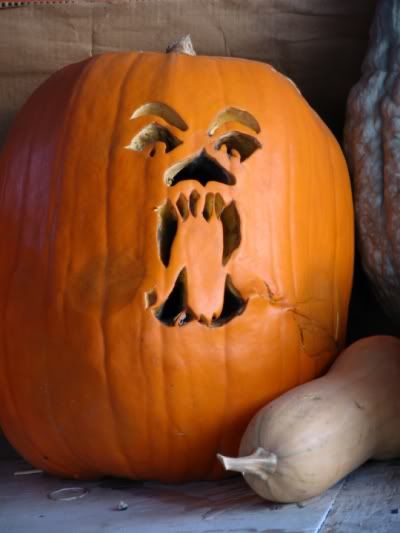 here's one pops did. he's been doing these veggie-man pumpkins for 30+ years, using fresh produce out of his fields for the features: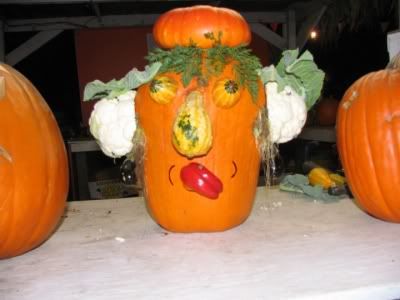 i'm glad the season is over, because by the time this weekend rolls around, i'll have worked 35 days straight without a day off, with over half of them VERY LONG DAYS. and i'll do it again next year if the opportunity arises, because i love this stuff. now i can work my real job recharged, energized, ready to face the long winter ahead.
thanks Joe Perry, for both your daughter, and for letting me come play in your pumpkin patch.