food blog! Roasted lemon herb cornish game hens
the holiday season is a time for sharing with friends and family. this season is a little special, because we have great friends this year that can't get out and about. we found out that our fiery frau has basically become homebound. since she's the primary caregiver for her hubby, things have just been turned upside down for them. their circle of friends have tightened around them, helping whenever and however possible. we volunteered to fix dinner and bring it sunday. there were six of us altogether, so the recipes are calculated for 6, with leftovers.
looks like
the 71st Carnival of Recipes
is up. go over and visit.
lemon herb cornish game hens and roasted rosemary potatoes
hens:
6 hens, thawed, rinsed inside and out, and giblets removed
6 tbs butter
3 sprigs fresh rosemary
1 or 2 cloves garlic
1 lemon
salt and pepper
paprika (smoky spanish or hungarian)
prep: preheat the oven to 350 degF.
Strip the three sprigs of fresh rosemary leaves off the twig, and toss into a mortar. add one or two cloves of garlic, and the juice of 1/2 a lemon. pulp. this can be done with a knife and cutting board, with the juice added later while mixing the butter. toss in a pinch or two of fresh pepper and salt.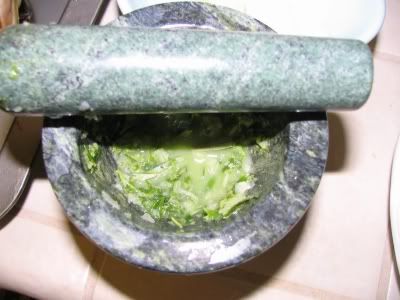 in a small prep bowl mix the herb mash into 6 tbs of softened butter. blend until the lemon juice is incorporated. set aside.
take each hen and run your thumb down along the breast meat, separating the skin from the breast. try not to tear the skin, otherwise the herb butter will escape during baking. salt and pepper the inside of the bird with a couple of pinches each. take the 1/2 lemon remaining, and rub it all over each hen, giving it a little squeeze while doing so to get the juice to lightly coat the bird.
add about 1/2 tbs of the herb butter per side on the breast between the skin and the meat. if you do this right, it will look like the bird went to a cornish plastic surgeon for silicon implants.
i used wire racks designed to hold the birds vertical. i've got several sizes, ranging from game hen size thru chicken up to turkey. i bought them over several years for use in my smoker and bbq grill. they work pretty well in the oven too.
you don't need vertical racks though. but one thing i would do is use something like a v-rack (for a couple of birds) or a cookie cooling rack (for over 2 birds) in the bottom of a roasting pan. that way the birds brown all over, you don't end up with greasy soggy back and thigh meat, and you can collect and reserve the juice released during cooking.
here's a look at the birds during prep: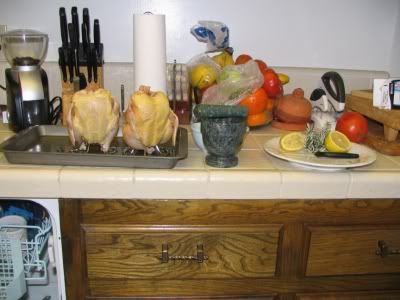 when you have all the birds done, mix kosher salt, fresh ground pepper, and paprika together in a small bowl, using a fork. a 1 tsp, 1/4 tsp, 1 tsp ratio works well. coat the birds lightly with this seasoning mix, and toss into the oven.
here they are, ready for the oven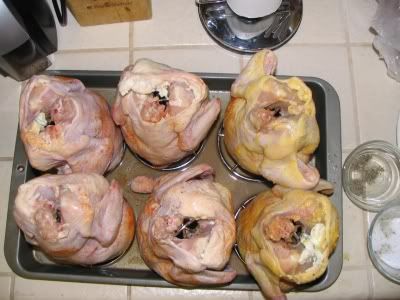 while they bake, rotate the roasting pan every 15 or 20 minutes, and give the birds a 1/4 while you're at it. baste the birds with the pan drippings each time. as you can see from the next picture, they take up a big area, and the temperatures are usually not real consistent throughout the entire volume of the oven.
here they are, "getting a tan"
bake for around 1 hour, until a thermometer inserted into the thick part of the thigh reads around 175 deg. the last 10 degrees will come while the birds are resting following the roast.
here they are, fresh from the oven.
remember when i said you should collect the juice? look at the bottom of that pan. there's some seriously yummy stuff sitting in there. after removing the birds, i pour off the juice into a small sauce pan and suck out about 2 basting bulbs worth of the oil floating on top. then i turn on the heat, and reduce the juices to about 1/2. butter, herbs and garlic, and rendered fat and juices...dayam. i use this reduction to spoon over the bird just before eating. the rest i saved for inclusion in the stock i made from the carcasses. that's going to be a killer soup.
i also made garlic rosemary roasted potatoes. this is a simple variation of my bbq spuds.
ingrd:
1/2 pound of spuds per diner
2 cloves garlic, minced finely
2 sprigs rosemary, leaves pulled off and chopped coarsely
fresh cracked pepper and medium coarse sea salt
olive oil to coat spuds
directions: wash and chop spuds into quarters. pour a couple of good tablespoons of olive oil into a big bowl, add the garlic and rosemary, and mix. add the spuds, and toss, coating them with the oil and herbs.
lay out in a single layer in a small roasting pan or cookie sheet, and toss into the oven. top with a couple of grinds of pepper and a couple of BIG pinches of sea salt. i love using sea salt this way, because it gives a great cruchy texture to the dish. i just stuck these on the next rack down under the birds. no sense letting all that heat go to waste. pull these out and toss each time you rotate the birds. pull when browned and fork tender. this took about 45 to 50 minutes.
here's the finished product: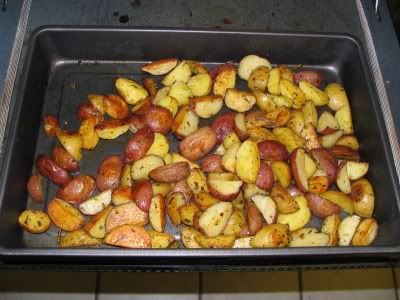 we fixed a nice big salad and a side dish to complete the dinner.
appetizers consisted of a triple cream french brie, allowed to come to room temperature, topped with a mandarin pumpkin marmalade, with crackers. i loved it, ed loved it, everyone else thought the marmalade too sweet. too bad. more for me!
as always, if you try this recipe, or it inspires you to try something different, please let me know how it turned out. i'm always looking for fresh and clever ideas to improve my own cooking skills and recipes.
for a complete list of my online recipes, follow the
link here