my first compressed air dive
Hanauma Bay Hawaii.
My first trip to periscope depth without a submarine.
I was in pearl harbor for machinist mate "C" school on ford island during the summer of '77. one of the problems I had during this summer was the dude that was supposed to take care of our pay while the boat was out to sea (yeah, you Hop!) went on leave without turning over to anyone at the detachment. That meant I didn't have a paycheck for weeks and weeks. i was so broke, i had to pretend to be snorkeling off the back steps to the barracks on ford island, because i could couldn't scrounge up the 25 cents to ride THE BUS to waimea bay.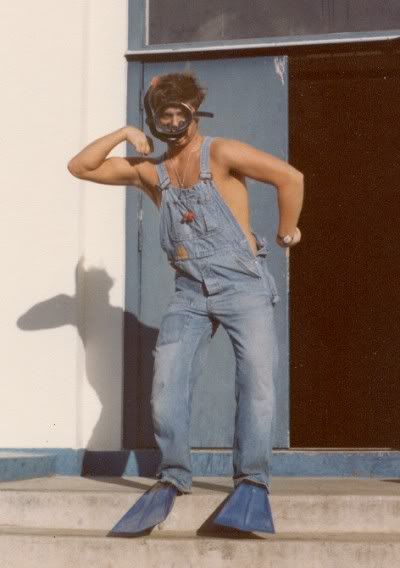 or i would just hang out in the barracks room, daydreaming about all of the heinous things i was going to do to the yeoman when i finally got back to the mainland
i posted this one
before
so i ran. and i worked out in the cheesy gym out in one of the leftover aircraft hangers from WWII. bobby and i ran an average of 7 miles a day, at least 5 days a week, and we spent at least 2 hours a day lifting weights. it's amazing what great shape you can get in when you don't have any money, and you are on a military base.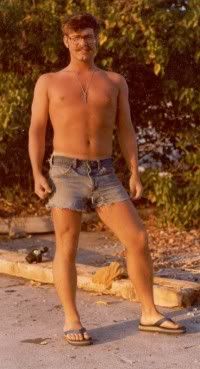 . i ended up GAINING weight, even eating at the base galley. i volunteered for a medical study some doc was doing, and my body fat was at 4%, at 180 pounds. i gained 5 pounds just from running. my classmate bobby went from a little pudge to a little less of a pudge. he had money, and didn't mind spending it on LOTS of beer, so he didn't quite get the same results. one good thing about bobby was that he didn't mind lending me a couple of bucks now and then so i could go to the beach and snorkel. i spent almost all of my free time either working out or exploring the depths.
and then i saw a flier for scuba classes being given by a civilian school, on sub base. it looked like a blast, but i was BROKE.
So what's a very broke submarine sailor to do when in Hawaii? You borrow $65.00 from a couple of guys in the class, and sign up for dive classes, that's what you do. I took classes on subbase from a dive school run by a retired marine EOD diver by the name of Kirwan. He said he loved teaching the class on subbase because the bubbleheads were all a bunch of squishy soft marshmallows, and it was his duty to see that they got at least some exercise before going back out to sea. he had a rough group of assistant instructors (AIs). they were all either active duty EOD marines, or navy divers, with one or two exceptions. so they took great glee in trying to kick our asses into shape. we got a lot more physical than the classes out in town did. we even played sharks and minnows, where the AIs harass you and do everything but actually drown you. it was a blast. and all the "lose the mask and tank" drills we did actually paid off a couple of years later on a dive, but that is for another story.
so we do all of our pool work and class work. time to go diving! since we had about 60 guys in the class, they split us up into 4 groups. we would cycle through each of the 4 dive locations over a couple of weekends. what was really great was they folded in the civilian classes with ours during the dives. our first dive was hanauma bay.
if you look at the first picture, you can see that the beach is way the hell down there. and you walk down from the parking lot. so we had to lug our dive gear, grub, and a couple of tanks each down to the beach. straight out from the beach is a reef which protects the beach from any big waves, and makes it an easy swim for those interested in snorkeling amongst the fish. just out past the reef, the depth drops to 60 feet. to the right, the shoreline continues on to diamond head. to the left, it sweeps around to the toilet bowl, so named for the dramatic water movement in a cleft of the lava.
so in we went. we swam out past the reef into the depths. we stopped and explored along the way, and got used to breathing compressed air under a lot more water than during practice in the pool. pretty soon, they had us sitting on the bottom, taking off our gear and putting it back on again. this is when i finally made it to snorkel depth without a submarine around me. well, 60 feet is pretty close to snorkel depth. close enough for me!
after a while, pairs started making their ascents. we were down there for as long as it took to suck the tank dry. that way, we got to experience boyle's law first hand by ascending 30 feet, and finding we still had air to breath. you can teach it all day long in a class room, but it will never have the same effect as actually hearing the regulator squawl and then smooth out as you rise.
bobby and i were the last two down. we were probably in better shape than any of the students out with us that day, since we spent so much time snorkeling at
sharks cove (picture stolen from
peterworld.com
)
three tables (picture stolen from
shorediving.com
)
or
waimea bay
.
we did our four dive trips to these four places too, which was pretty cool. the lava tubes at sharks cove were especially cool. i've been back in the last decade or so, and the quality of the diving experience really sucks. the beaches and reefs are so overused that they are all but wastelands now. when we dove them, the sealife was simply splendid, the varieties and colors made you feel like you were diving in a tropical aquarium at some huge museum. not any more. too bad.
anyway, i found that the years of snorkeling and diving on a hookah (hoses on a float to the surface) were just the tip of the iceberg. i loved diving, and spent every available dollar i had, and minute remaining on the islands to go diving. i took a bunch of extra classes, and certified the following: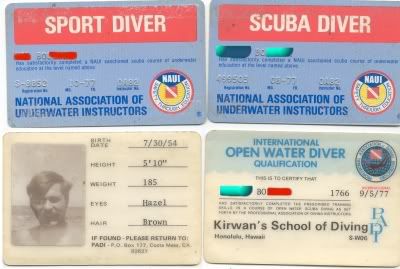 i don't know if you can see the picture on the back of the PADI card, but i was a damned swashbuckling sailor, let me tell you!! i also took underwater first aid, night navigation, and did as many cave and lava tube dives as i could line up.
i've been diving just about everywhere i've traveled. i've been to the bottom of truk lagoon, and i've dived the wall in the caymans. i've chased octopi under the tacoma narrows bridge (they get BIG there), and chased moray eels on the northern coast of california. probably the coolest thing i've seen was the nautilus migration to the surface to spawn while diving on guam. usually they don't come anywhere near the surface. that day, there were literally thousands upon thousands of them, floating up and swimming from the depths. a most memorable dive.
Labels: diving