dodged the flood bullet once again!
i live in a beautiful spot of the universe. i have a big yard, beautiful trees, and a creek for a backyard barrier.
but this week has been some kind of crazy. this area typically gets between 19 and 22 inches of rain a year. this area got 7 1/2 inches in under 18 hours. good thing the creek has high banks.
i felt sorry for the folks heading west on I-80 yesterday. it was closed due to flooding early in the morning, and by 9 o'clock last night was just barely moving. i was bummed big time, because di and i were supposed to be partying in napa last night. of course, a big chunk of napa was underwater too, so what the hell. no way i was getting on the freeway to go anywhere.
so here's a picture of my back yard an hour after the creek started to go down, around 7 in the morning.
click pix for larger image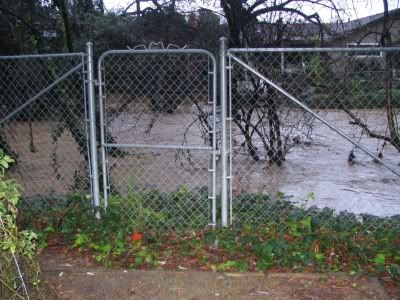 there are no points of reference if you haven't seen the yard yourself, and the darned camera doesn't show much depth of field so here are a couple of explanatory comments on the picture. the water is a little less than a foot from breaking out of the ivy you see at the bottom of the frame. that is my back yard. the poor dude across the creek to the left is 10 feet lower than i am, and was flooded out. the water is about 35 feet across at this point, and moving DAMNED fast. i saw a beach ball go past that travelled the 300 feet or so i can see in under 2 minutes. it's a lot faster now that the level has dropped.
here's a pic taken today, about 24 hours later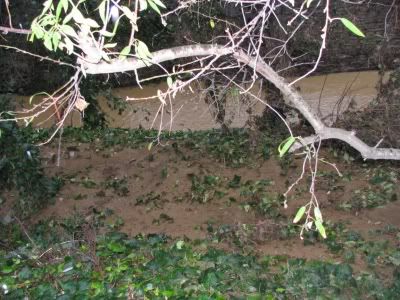 reference points are: the flat section just above the bottom of the picture that's all covered in silt is about 12 feet down, and the creek surface is about another 7 or 8 feet below the flat, and about 8 feet across.
we were lucky. really lucky. there were a lot of road and street closures in town due to flooding, but we escaped any and all of the bad things that happened to others.
know why? the first question i asked before buying this place is: has it ever had water in the back yard from the creek, since being built in 1969? and the answer is NO, even during the really ugly flooding in 86 and 97.
my dad taught us to never live anywhere that was below the high water mark.