Eat an Animal for PeTA, my contribution
so we all know that 15 march 2005 is people eating an animal for peta day, right? if not, i suggest a short trip to
Yourish
for a brief background. i whole-heartedly support this concept, and went out this weekend, bought 5 new york steaks, and mary's little lamb's chops... 8 of them. and this is a pictorial/recipe post, sharing with you not only the food, but how i fixed it. FOOD BLOG!!!
so: lets start with the meat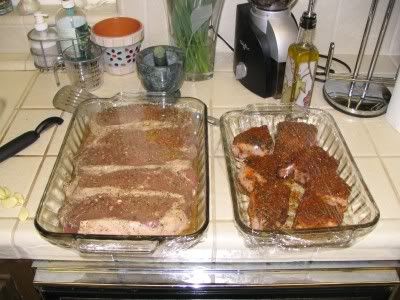 Beef preparation: marinade the steaks in your favorite marinade. if you don't have one, try this
beef marinade:
1/2 white onion, minced
1 clove of garlic, minced finely
1 bay leaf, crumbled
1 sprig of rosemary leaves, crushed or minced, saving the twig for the bbq, or a couple of pinches of dried rosemary
1/4 cup veggie oil or olive oil
1/4 cup wine vinegar; either white or red, they both work.
mix up the ingredients, pour into a dish big enough to take the steaks, and then turn the steaks over a couple of times in the marinade. cover and refrigerate for a couple of hours, turning at least once. i always try to let the meat come to room temp before bbq'ing, and that's a good time to turn the meat.
herb crusted lamb: first of all, let me say that i personally can't hack lamb. just don't like the flavor, and that's that. so when i decided to grill lamb, i had to resort to visiting my cook book shelf. i decided on a dry rub, and by all the feedback i got, it was a winner.
lamb grill dry rub (california culinary academy's
Barbequing, Grilling and Smoking
). normally i'd use as many fresh herbs and spices as i could get my hands on, but i followed their recipe for a DRY rub.
1 tsp garlic powder
1 tsp fennel seed, bruised or crushed in a mortar and pestle you do HAVE a mortar and pestle, don't you? if not, a coffee mill, or even using a spoon to crush the seeds in a ceramic or metal bowl will work
1/2 tsp thyme
2 tsp black pepper
1/4-1/2 tsp cayenne pepper
1 tbs paprika i personally use the hungarian sweet paprika anytime i can, and it seemed to work really well in this rub.
1 tsp each oregano and basil
2 tsp rosemary
1/2 tsp salt
.
i just put the rub on a saucer, and dipped the lamb into the mix until all sides were coated. the rub makes about 4 TBS and i used it all for those little baaaaaaad boys.
of course, being a well informed eater, i couldn't just have meat. well, i could, but since i had guests coming for dinner, i decided to make it an all grill affair, except for the salad.
grilled spuds: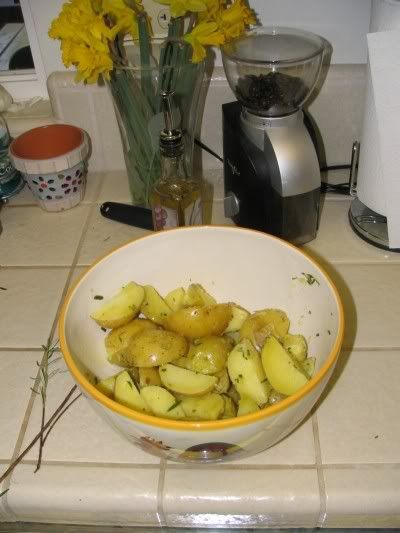 i prepped enough spuds for about 2 to 2 1/2 yukon gold spuds each (hey, they aren't that big)
ingredients:
spuds, some small variety like red skinned or yukon gold, but NOT creamers, because they'd either fall apart, or fall thru the grill
3 sprigs of fresh rosemary, stripping the leaves and saving the twigs for the grill
3 cloves of garlic
olive oil, you will know how much is enough when you start tossing the spuds
so, i quartered the spuds, and put them into the steamer for 10 or 15 minutes, until fork tender, but before they became mushy. DON'T OVERSTEAM. i didn't try this, but i bet you could microwave these puppies on high for 5 minutes, check, and adjust additional cooking time until tender.
crush or mince the garlic and rosemary leaves together, put into a bowl and add a couple of tbs of olive oil. then toss in the spuds, and mix to coat. drop a film or foil cover on the bowl, and set aside until ready to cook.
grilled veggies:
Prep: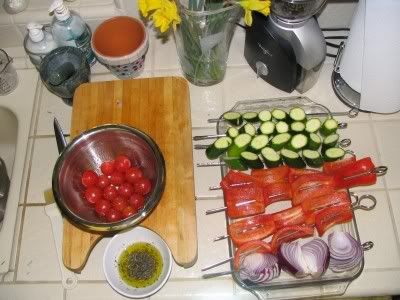 so you take your favorite grilling veggies, and cut and skewer them. i used red bell peppers, zucchini, and red onion. the tomatoes i left to dump directly on the grill, since the skewers make a big mess of the tomatoes.
marinade the veggies as follows:
2 tbs olive oil
a couple pinches each of oregano, thyme, and basil
brush the marinade on, and let sit covered until ready to cook. you can also cheat, but you'll have to read further to find out how. i made this marinade only because i ran out of my cheater brew. shhhhh, don't tell anybody.
grilled asparagus:
2 bunches of asparagus, rinsed and dried
bottle of home made good seasons garlic and herb salad dressing (this is one of my very favorite cheater marinades for veggies and meat)
snap off the bottom howevermuch breaks on the stalks. the last inch or so is usually really woody, so grasp the stalk near the bottom, grab the cut end with the other, and snap. it will snap off the really tough part, and leave the rest for the grill. usually about 1 to 1 1/2 inches snaps off. toss the asparagus into a big ziplock bag (gallon size) and pour the salad dressing in. seal, and then squinch it around until the veggies are completely coated. set aside until ready to cook.
this is what it all looks like when the prep work is done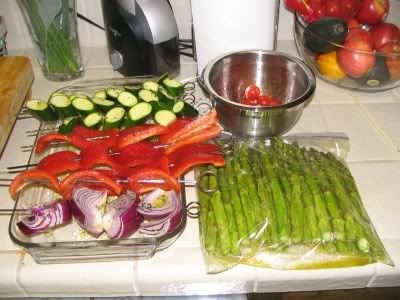 so off to the grill:
first, i use a weber charcoal kettle grill, and these instructions are for it, but i'm sure they would work just as well on a gas grill.
fire up the coals. when ready, put the spuds on, and cover. cook for about 25 minutes, or until nice and lightly charred on the grill lines, and brown inbetween. turn to keep from burning, and about halfway thru, brush on a little olive oil. when done, put back into the bowl where the garlic, rosemary and olive oil are, and toss. cover or put into a 200 degree oven to keep warm.
grill the veggies next. i started out with the asparagus, making sure to put it on the grill so that none fell between the wires. a little salt and pepper, and then let cook, turning until done. cover and keep warm
veggies: easy, on, turn, off. keep warm. strip off of the skewer, and plate with the asparagus.
steak: just before tossing on the grill, shake montreal steak seasonings on both sides of the steaks. this is one of my favorite store bought season mixes. grill, turning about 5 minutes into the process, and baste with melted butter. hey, we aren't talking low cholesterol or calorie here, it's eat an animal for peta day, remember? cook until you are happy. i usually pull the steaks when they are about 125 to 130 internal, and they finish cooking on the serving plate.
lamb: toss on at the same time as the beef, and let the herbs char lightly, turning the cuts until all the sides that you can cook are cooked, and it's about 150 to 170 internal temp. we went towards the rare end of the spectrum.
plate and prepare to dig in: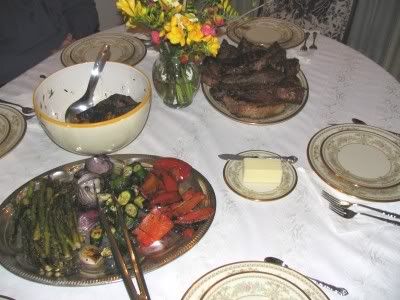 but before you do, make sure you have sautéed mushrooms and onions ready for the steak. you don't? here's my favorite
1 white onion, diced
3 cloves garlic, minced finely, or pressed
3 to 4 cups mushrooms
a couple of big glugs of olive oil in the saute pan
2 tbs BUTTER (no margarine...remember this is....eat an animal day
saute onion and garlic until the onions start to turn transparent. throw in the mushrooms and saute until soft. turn down the heat to low, and add butter, swirling until it is melted and incorporated. take off the heat and place in serving bowl, on the table.
hey bo! think we could get another look at that meat platter?
why sure, little feller, take a gander at this cropped shot.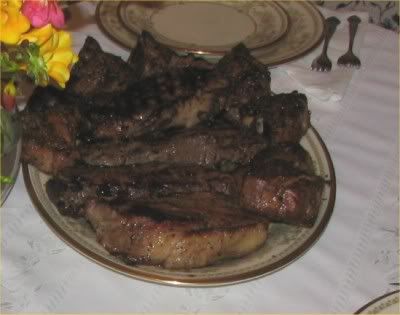 thanks bo
sit your kiester down and get ready to dig in. oops. forgot. for the steaks, get about 1/4 to 1/2 pound of a really good crumbly blue cheese. i found an amish ohio bleu cheese. top the hot steak with a nice layer of crumbled cheese, a generous helping of shrooms and onions, and dig in. the steak, topped with that amish bleu, was one of the best steaks i've ever eaten. and i've eaten a couple of cow's worth of steaks in my 50 years.
for libation, we had: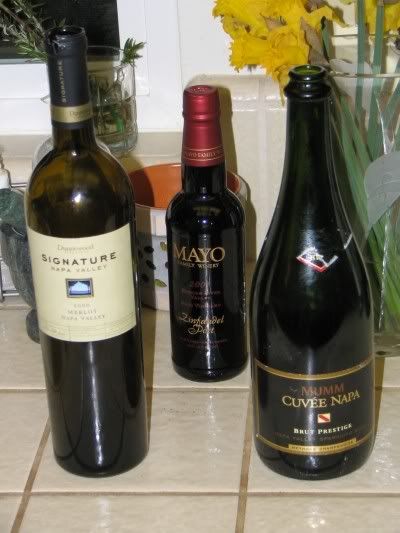 a damned tasty 2000 Napa Valley grown merlot by
dunnewood
. screw that sideways movie b.s. merlot is still a great wine, and it held it's own against the herb crusted lamb and the cheese and shroom drenched steaks. THAT's what it's all about, not some vague sense of superiority. except, for superiority's sake, we started the evening with a toast to our new home with a bottle of
Mumm Cuvee Napa's Brut Prestige
which helped put us all into a festive mood. oh, and the Port behind the wine bottles? we didn't drink that. i'm saving it until around 2015 or so. i'm just bragging, and wanted to show it off. i'ts a
Mayo Family Winery
2001 Ricci Vineyard Russian River Valley Zinfandel Port, which by all the wine experts reckonings, should be one of the finest Ports produced in california, ever. we'll see when it matures, in say another 10 or 15 years.
desert was a pound cake/3 berry shortcake, with whipped cream, a nice romeo y jullieta cigar, and a couple of demitasse glasses of
Fonseca Bin No. 27 Porto
, inexpensive, but tasty. damn, life is good, especially when the day leading up to the evening was in the low to mid 80's, in the middle of march.
so, do you think we did our part for Eat an Animal for PeTA day, albeit a couple of days early?
edit 3/16/05
: and for an independant review of the dinner, visit dwardo over at
Vox Edvardicus
. note: i did not hold a gun to his head, nor did i threaten any physical harm. purely a voluntary post. honest, really, no kidding. hehehe
for a complete list of my online recipes, follow the
link here