i completely forgot to brag about my new roof!
yeah, yeah, so i forgot in the excitement. so,
this entry
stands as the before image.
and
here
is the in progress entry.
and now, the final product
click on image for larger view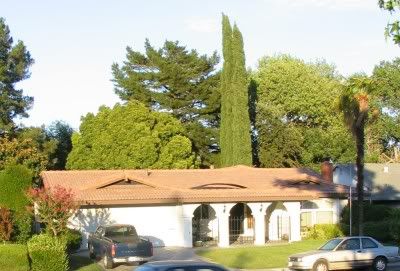 .
as you can see, it's a little breezy, and the sun shade cloth i've got over the front patio is blowing up (the black arch over the front area). i really like this shot, because it shows a couple of the trees in the back, and how big they are. i love the chinese camphor that sits directly in the middle of the back yard. it's a beautiful tree, and it smells like a cough drop. that's a good thing!