how do we get our nicknames?
i posted about the
unfortunate turn of events
when pud was left unattended in the engineroom.
well, how the hell does someone end up with a nick like pud? we had a pinky. because he once said he could kick all of our asses at once, and not use anything more than his pinky. and of course, we had "
BIG
". bolding intended. because he was a BIG sombich.
here's a shot of BIG holding, pinky tacking on my dolphins, and me grinning and bearing it.
and just for size comparisons, here's pinky and me in the engineroom. i'm 5'10", pinky is huge, but BIG was a couple inches bigger than pinky. submariners.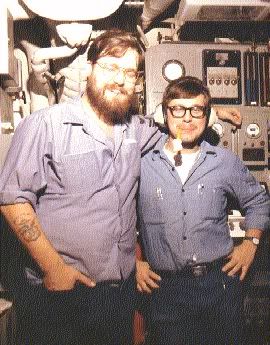 don't you just love those black plastic navy birth control glasses?
so anyway. why did pud get called pud? he didn't start out as pud. he was FNG. for you non-military types, that would be fucking new guy.
we were scheduled to get underway at O dark early, but things didn't work out. that wasn't unusual on the ustafish. as a matter of fact, we were a couple days late getting underway.
why is that important?
the supply officer and the chief cook would draw up the menus for the coming month, and stuck to them pretty religiously. and when we got underway, they would try to keep the greasy fried foods, or really odious dishes off the menu. that works. unless you get underway 3 days late, and the menu has sliders, fried shrimp, and chili. you saw the old timers eat very sparingly at lunch. and they warned everyone else. but pud, well, that boy liked to eat. he liked to eat a lot. so he did. a lot. of everything.
i don't know how many of you have travelled out the golden gate, but there is a stretch of water known as the potato patch. it's reputedly the roughest stretch of coastal water on the western seaboard.
and it lived up to its name.
pretty soon, there was a line to the heads. the newbies were discovering the old timers weren't so stupid after all. and poor pud, he left little puddles of semi-digested lunch everywhere. he really tried to hold on until he could get to the head. he really did. but the hydraulic pressure overcame the force exerted by his now very weakened fingers covering his mouth.
so he became puddles. later shortened to pud.
so, any interesting nicks on your boat(s) worthy of a story?