food blog, the great american bbq
we had a bunch of friends over for
a 4th of July bbq
. on the menu was grilled tri-tip steaks, grilled london broil, alder and apple smoked chicken mango sausages, and a whole alder smoked copper river salmon. one guest brought her friends from germany with her, and the nice visitor made me the real deal german potato salad. to say that nobody went home hungry is an understatement.
smoked salmon:
marinade:
1 1/2 cups kosher salt
1/2 cup REAL maple syrup
1 cup white wine
1/4 cup brown sugar
juice from 1 lemon, and the peel, grated
1 tbs brown mustard
2 cloves garlic, minced finely
1/2 cup yoshida's gourmet sauce (you can skip this and use a 1/4 cup soy sauce, or leave it out entirely)
1 bunch parsley, stems cut off, and leaves chopped medium
3 or 4 sprigs of fresh rosemary chopped medium to fine, saving the twigs for the smoker pan
4 cups of lukewarm water, to dissolve the salt
ingredients:
1 whole 6 lb salmon, filleted and quartered. of course, you can do this for just a couple of salmon steaks or fillets. i lucked out and found fresh alaskan sockeye, so i bought the whole thing and cut it up myself.
fresh ground pepper
mix everything together in a bowl. i cheated, and ran it in my blender. this not only chops the garlic and parsley up for me, but it also helps get the salt dissolved fast.
place your salmon fillets in a couple of ziplok bags, and transfer the marinade to the bags. squish everything together to make sure no meat is left dry, and then refridgerate overnight.
here's what that looks like: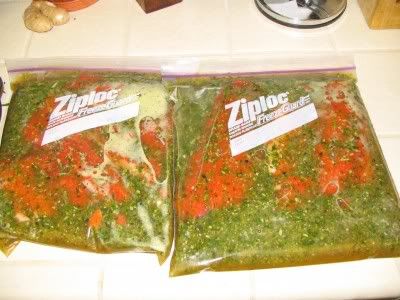 when you are ready to get the smoker going, try the following. remove the fish from the fridge, and rinse off most of the marinade. if you don't, it will taste like a fish flavored salt lick. you can run some water thru the strained marinade, and sprinkle them on the fish, but don't fail the rinse part. seriously. it's a terrible way to waste good fish. let the fish come to room temp while getting the smoker prepped.
i used the rest of the bottle of white wine, in this case a Hess Select Chard, and mix it with about a quart of boiling water. get the coals going, or in my case, plug in the electric smoker. let the element get hot, then toss a handful of wood chips into a small (like a 5 or 6 inch small) cast iron skillet that is resting on the element. the wood should be soaked for at least 1/2 an hour before doing this. i used alder wood for the salmon. in the PNW, that is the ONLY wood my grandfather used when smoking fish. who am i to argue? he owned a cannery, and that was his business, so monkey see monkey do. put the smoker together, and pour the hot liquid mix into the water bowl. put the top grill on, wipe it down with cooking oil so that the fish doesn't stick, and then drop the fish on the grill, skin side down. grind a little fresh black pepper over the fish, to taste. cover and walk away for about an hour to an hour and a half. don't peek. the fish will be ready in that time frame. the meat will be ready, honestly. don't overdo it though, because you can end up with salmon jerky instead of salmon fillets.
here's an image that will get the mouth watering of anyone that has ever smoked or eaten smoked salmon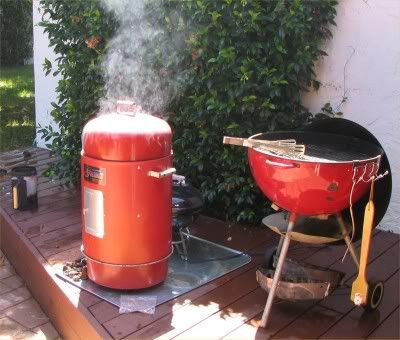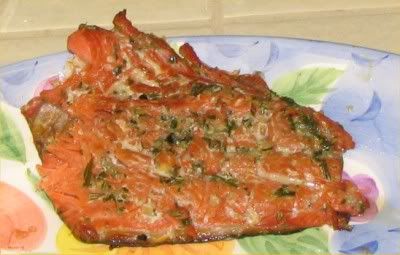 this is the chef's nibble piece. this stuff was great on party crackers and cream cheese, with a big blob of salmon on top. or just flaking it off the skin and eating it. hard to go wrong with smoked salmon. leftovers make a great omelet, too.
when i posted about the bbq on the 4th, i was asked how i get the london broil to not be tough as shoe leather. there aren't a whole lot of tricks to it, but it does require buying good meat. old bossy the cow slaughtered because she doesn't give milk anymore probably would be good for stew meat, and not much else.
bbq tri tip and london broil
marinade
3 tbsp per steak McCormick Montreal Steak Seasonings. this stuff is good, and it has enough salt to work as a marinade.
1/4 cup oil per steak
1/2 beer per steak. for the marinade, not the marinader. marinader gets as many as he wants. for a non-alcohol version, bump up the vinegar called for next
1 tbsp red wine vinegar
for tri-tip steaks, use the one steak proportions for every 3 pounds
combine the ingredients, and pour over the meat that has been placed in ziptop bags.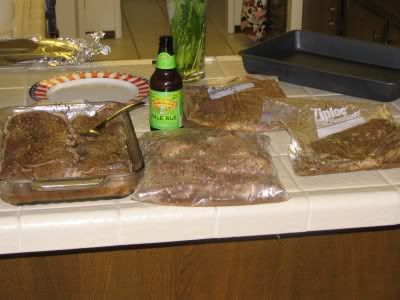 as you can see from the picture, being the marinader is tough, sweaty work, requiring an almost constant resupply of fluids. i chose to resupply with a
sierra-nevada pale ale
. almost a no brainer, know what i mean verne?
refridgerate overnight. when ready to grill, take out of the fridge and let it come up to room temp before cooking. DO NOT PIERCE MEAT to "TENDERIZE". baaad baaaad habit to get into.
get the grill fired up. i use a weber charcoal grill, and cook these indirectly.
when the grill is ready, i toss in a couple of chunks of mesquite or hickory that has been soaked in water for at least 1/2 an hour. the meat goes right down the middle. i grill the first side for about 10 minutes, then flip. after another 5 minutes, i get the meat thermometer out, and measure from one end, not the middle. i insert the thermometer parallel to the grill, and when the temp hits 120, i take out the thermometer, and slap the steaks right over the coals for about 2 minutes a side. then it's off to a plate in the oven set at 150F (to keep everything warm while cooking the other steaks). i did the london broil first, then finished up with the tri-tip. that way, the london broil could continue to slowly cook until i was ready to carve.
cut the steaks cross grain in really thin pieces. i use an electric knife to do this, and that will give you a nice tender piece even if the meat is tough. save the juices on the plate to pour over the cut meat.
and of course, no bbq is complete without sausages, especially when you have german guests over. i did up some
aidell's chicken-mango sausages
in the smoker after the fish came out. i added a mix of apple and alder to the pan, and there was still enough wine and water in the water pan that i didn't need to add anything else. after smoking for as long as it took to cook the steaks and london broil, about 50 minutes or so, i pulled them out of the smoker and hit them hard over the coals for a couple of minutes, just to get a little char going on the skin. damn, they were good.
and of course, no 4th of july party/bbq is complete without a tasty patriotic treat like this: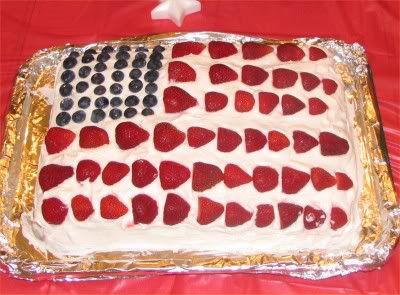 a flag cake made by our lovely and talented friend Golden.
great party, great food, great people.
as always, if you try this recipe, or it inspires you to try something different, please let me know how it turned out. i'm always looking for fresh and clever ideas to improve my own cooking skills and recipes.
for a complete list of my online recipes, follow the
link here